AN ELEVATED NON-ALCOHOLIC FORMULA BASED ON THE DELICIOUS ITALIAN APÉRITIF. SHARP TANG, BITTERSWEET, SAVOURY FINISH. DRINK LIKE CAMPARI OR APEROL
Etota is the Swiss Army Knife of drinks. Made from 15 fruits, spices, teas and herbs, macerated & distilled for over 96 hours into a concentrated beverage that can be mixed or not. Created by award-winning bartenders there are 10 serves per bottle. Drink straight on ice, mix with soda, tonic or gin, or use to make cocktails / mocktails. A premium staple item etota is DELICIOUS and keeps you coming back for more.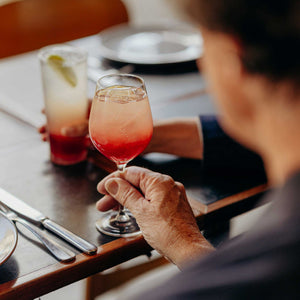 Eric M.
★★★★★ "A very adult drink! Perfect with soda and fresh lime."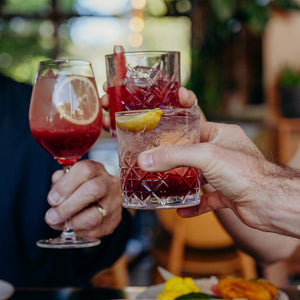 Kieran T.
★★★★★ "Finally - a non alcoholic beverage that tastes amazing."
With a sharp tang from gentian and schisandra and a restrained sweetness from grape juice and strawberry, ETOTA'S BITTERSWEET APERITIVO HAS A BOLD mouthfeel closeR to its intoxicating cousins Campari and Aperol, than cordials and soft drinks often peddled as MIXERS OR booze-free alternatives. ETOTA IS 100% NATURAL, WITH NO ARTIFICIAL PRESERVATIVES, COLOURS OR FLAVOURS. ENJOY IT YOUR WAY.